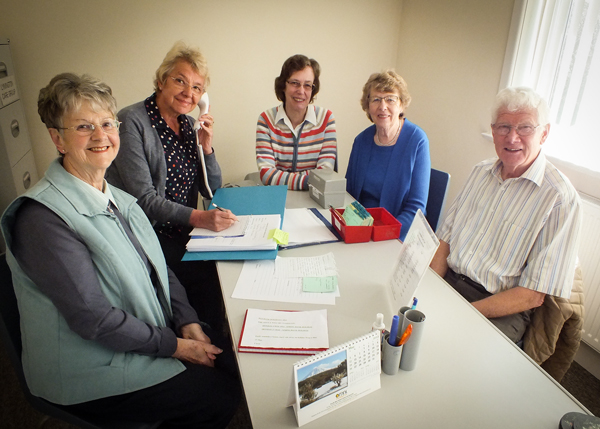 Lymington Care Group contacted a number of organisations in their plea for help for alternative office accommodation…………….well, they contacted the Lymington URC just at the right time as the church had new meeting rooms available!
After viewing, discussing and visiting the URC, the Lymington Care Group started their 10am to 1pm telephone support service at the church on Tuesday 26th March 2013 on a Monday to Friday basis (excluding bank holidays). Rev Chris Vivian said…"Lymington URC is delighted to be able to help such an important community group as the Lymington Care Group. It reinforces our aim as a church to be an Open Door to the community and for our buildings to be used to benefit all."
The care group is a voluntary organisation whose helpers drive people from the Lymington/Pennington area to medical appointments, such as GPs, dentists, chiropodists, and to any hospital the client needs to go to. They also arrange for elderly people to visit relatives and friends in nursing homes and hospital.
The group commented "going to hospital can be a frightening experience and Lymington Care Group feel that by staying with the client it takes some of the anxiety away." At present they have 35 volunteer drivers, and although that may sound a lot, because of holidays and other commitments it is sometimes very difficult to accommodate all the requests they receive!!
Lymington Care Group are always looking for volunteers and if you have a few hours to spare weekly, monthly or just occasionally, they would be pleased to hear from you. The care group office telephone number is 01590 679187.
Picture left to right:
Carol Kirby (LCG Team Coordinator), Gill Gaunt (LCG telephone volunteer),Rev. Chris Vivian (Lymington URC Minister), Doreen Cummins (LCG Hon Chair) & David Kirby (LCG Hon Treasurer).