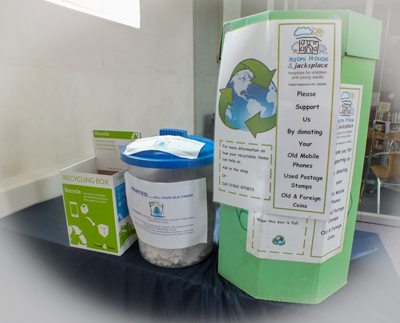 Thought we would let everyone know what the church collects/recycles at the moment for various charities and groups. The collection boxes are in the Open Door Café with the acceptable items listed on the front of each individual bin …
Sarisbury Green URC

cards in support of their Operation Christmas Child.
Naomi House

collect stamps, mobile phones, foreign coins.
Cruse New Forest

collect old/used printer cartridges and mobile phones.
We continue to collect milk tops in support of MENCAP and

Fight for Sight.
And not forgetting all the books in support of our church!! Pictures show our very own Ann Webber who looks after the book trolley together with a big bag of milk tops and our recycling bins so you will recognise them when you next visit the church!! "