As a result of the removal of the Basics Bank, the remaining concrete slab and the foresight of some of our members and the opportunity of lockdown, we set to work constructing our new Garden Cafe and terrace.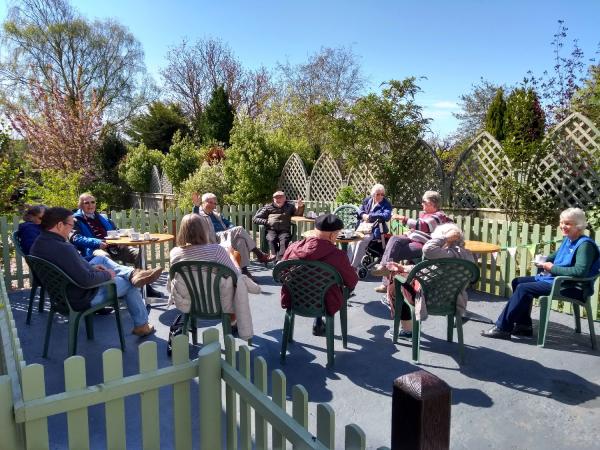 The refitted cottage kitchen was undertaken by our caretaker, using a member's kitchen furniture that was being replaced. The terrace was constructed through donations and hard work, again by our caretaker and centre manager and the kitchen and cafe kitted out by yet more generous donations.

We opened on May 10th and the response has been amazing. The chatter across tables between visitors has been enlightening and the chance of taking coffee into the garden for some peace and quiet has been taken up by some. During this  Covid restriction time, being outside has given us the opportunity to continue our "Open Door" ethos and we will remain an outdoor "Open Garden Gate" whilst the weather allows.
We do hope by the time autumn and winter come we can venture back indoors safely – but one step at a time!
Come and enjoy fresh coffee, tea, cake and company from 10am-12 noon each weekday